I'm so happy at home these days.
That being the reason why the idea of going to a friend's birthday party this weekend seemed more grueling than exciting. She wanted to go a club after dinner at her place. Being that I am not an absolute recluse or hermit, I decided to attend anyway - having since regretted this at least half a dozen times and here's why.
I walk in there, totally decked out in my club outfit, which is not really appropriate if there is a parent present - in which case there was, unbeknownst to me. Regardless though, the fact that I was under the impression that it was a party I should attend alone, not with the fiance in tow (which, in mid-party turned out otherwise) and the fact that I was physically not very comfortable in my clubbing outfit sitting across from a parent, that's all trivial.
What is not trivial however, is the utter disgusting display of human intolerance and ignorance that sat across the table from me.
It all started innocently enough. One of the women, let's call her 'Brunette', commented on the other woman's (the Blonde's) uncanny choice of shoes for the given weather. The Blonde was quick to retort (and I swear, she seemed so stuck up that I could imagine her snorting as she said this) 'I used to live in New York, eeeveryone wears pumps in all sorts of weather there'. The Brunette gasped in awe,
I pictured her as a little animal, flapping her limbs in adoration of a bigger one
, clearly getting ready for a major sucking up session but unsure as to where to begin. There was a momentary silence, so I said
'Yeah, having been to New York and worn flats for the better part of Autumn because you mostly have to walk every where, I'm sort of not surprised'.
Silence.
'So.. having been to California now though, I must say, I loved it'.
'California is big and different'. The Blonde replied. Which is when I explained and agreed, saying that I really liked San Francisco but LA was not my cup of tea, albeit I didn't get to see much of LA except the tourist spots so I can't say much about it.
I get told that San Francisco weather is gross. I.. disagree, I quite like the weather but I didn't disagree in the conversation at the time. Then I get told that LA is unsafe. Fair enough? I guess, I wouldn't know, I've never spent more than a day there.. so I didn't dispute it. I mediate the situation by saying you know what, my dad is totally a New York person too, he wouldn't trade it in for the world..
I flip the awkward conversation onto a subject that at the time, seemed absolutely harmless to me: public transport infrastructure. I didn't have much in common with this snobby superficial blonde to begin with, so I was short of subjects to converse about.
Apparently, I was mistaken.
Soon enough, the topic was intentionally steered towards .. all people who are not 'white', vulgar vocabulary implemented and pure raw ignorance puked all over the conversation.
'
Los Angeles public transport is full of -them-, and it's so dangerous!'
The Blonde snorted. I suddenly realized how much I was beginning to loathe her. I was sickened with everything she just said and her very being.
'They all look at you!'
she continued. I was brewing. Boiling.
'My father felt like being adventurous once, and he took the public transport to the airport, can you believe it?'.
She blurts
I tell her that I never felt that way, nor do I generally feel endangered around people, regardless of the race. Demeanor can intimidate me but certainly it has nothing to do with the way a person looks.
'I was the ONLY white person on a bus in New York once, I was so scared, they were all looking!'
. The Brunette soon followed up with her share of crap. Mind you, this woman is -NOTHING- to look at.
'I used to live in New York, I took the public transport every day and never did I feel so much as awkward'. I managed to reply, though I wanted to grab her and shake her - scream at her, that it's people like her who bring prejudice and hate into the world, they're the ones who help it live and the way she reasons and sees the world, through this closed-minded prism.. is wrong.
'I took the bus to school for two years in New York, and it is not pleasant!' The Blonde snorts again.
How I detested her in that very moment. Her snobby, sheltered world - how I wanted to make it crumble. To tell her that I hope she doesn't bring children into this world until she changes her mindset to something acceptable by society today. How 'tolerance' is not even the beginning of the description of what she needed. She needs therapy. She needs a reality check. She needs a life. She is nothing outside of her real estate awards given to the international investment bank where she works. She flocks with people just like her. They are all sick.
How I suddenly wished to expose her.. to all of her colleagues, her superiors - for the discriminative, racist, ignorant prude I see her as.
My friend lacked sensitivity to the matter and my shock when I came into the kitchen to talk to her, my utter shock at the fact that she'd put me at a table, knowingly with such people, given that I myself, am not exactly pure Slavic to put it lightly. She just told me stories about how 'tolerance' seems to be disappearing these days, especially abroad. I called total BS on that, and I told her so. She mentioned some of the recent terror acts as an example.. to my horror, she didn't see to realize that these remarks made by the women she calls friends are all a part of that big, ugly picture - I told her that I hoped the two women would NOT bring children into this world until they wise up on what is reality these days, and how they are contributing
NEGATIVELY
to our society today.
For what I can usually articulate my feelings, that evening made me so angry because I cannot believe that people aren't ashamed for voicing these things so freely. I will not be caught dead in the same room with them anymore and I am very much shocked at the idea of my friend being a part of a consciously racist clique.. I thought she knew better, apparently I did not.
'Equity' has more meanings than your investment bank has taught you, you imbeciles.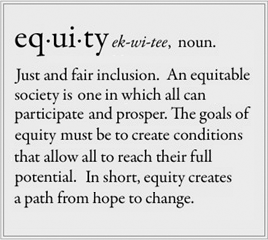 equity
- conformity with rules or standards; "the judge recognized the fairness of my claim"