So, a new little blog tag dedicated to children menu reviews!
Brief Children Menu Review @ Piatti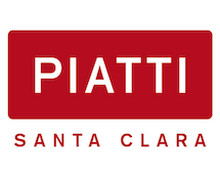 Location:
3905 Rivermark Plaza
Santa Clara, CA 95054
So, my kid is partial to certain things - much like all kids really, there's a selection of things she likes and some that she doesn't.
Eating at home is one story, but eating out is another - generally she'll be happy to have pasta. She doesn't like anything 'long', so spaghetti and other similar pasta is out. I just about always ask for a penne or similar substitute if possible.
She'll be happy to get chicken tenders, breaded fish or shrimp with chips
(..or French fries, as I should now learn how to call them!)
. Some sort of fish fillet and assorted veggies could also work out well on good days (though we're still working on getting her to be happy at seeing greens as happy as she is at seeing fries!).
Piatti is great for $6.95 we got crayons, some awesome colouring pages and a choice of:
Spaghetti - butter or tomato sauce
Bambini pizza - cheese, tomato sauce + cheese or peperoni topping
Chicken breast and assorted veggies
This included some juice and a scoop of ice cream at the end of dinner.
Nika is going through a stage where she's not too keen on cheese, so we asked for the pasta without cheese. Luckily we were able substitute the spaghetti with ricciutelle or maybe it was more of a short lasagnette type of pasta; anyway, you get the idea - the main thing is that it was a hit!
The portion was so generous that we even got to take some home, which she really enjoyed for lunch today: